32 Cavities Pet Preform Mould (DMK-32C)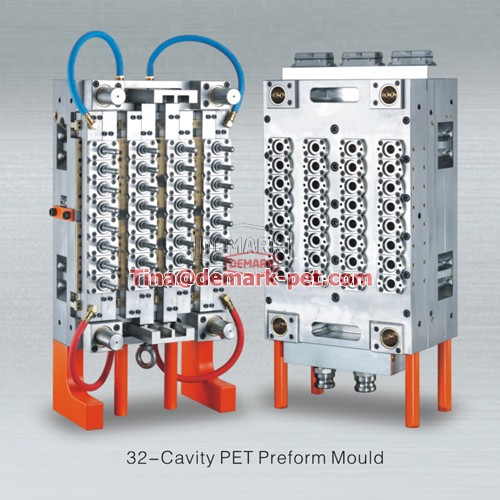 32 Cavity Preform Mold for the preform with 30/25 neck, equippted with balanced hot runner system with valve gate. The weight of the preforms is 20g, cycle time is 12s for our high-speed injection machine and 20s for normal injection molding machine. The main components of PET preform mould (Die Core, Die Cavity And Screw Neck) are made by injection process, which are made of special mold steel ( Germany steel 1.2316) after preheating treatment in the original factory in Germany. In this way, the mold with long life service and high quality can be used for 3 million shots without any maintenance, meanwhile, the wall thickness between max. Parts and min. The molds equipped with imported components including high-qualitied lubricating copper plate, standard PID temperature controller. Moreover, turning center processes make sure that every parts can match well; Proper distribution of cooling water way improve productivity effect and molding cycle only takes 15 seconds(need proper water chiller, bottle design and injection machine).Various kinds of processing equipment and detection measurement instrument are imported, as well as special drawing soft is applied in designing performs, samples and manufacturing testing mold.
32 Cavities Preform Mold, designed and developed by our engineers, is of high precision and long life span without traditional problems. In a word, PET preform wall thickness is on error of 0.05mm; Weight difference is less than 0.3g; 2-5 molds per minute; 3 million guarantee. We supply special technology training and other good after-sales service.
Back to top
Notice: The views expressed are my own and do not necessarily represent the views of DEMARK.
Copyright © 2013 - 2021 www.pet-machinery.com all rights reserved. Designed by Tina | Sitemap