Stretch blow molding of heated preform
The neck of the heated preform acts as a counterpart for the handling tool of preform in blow molding machine in which it is fed into the single or multi cavities blow mold.
When the heated preform are into the mould, four subsequent phases are follows:
axial pre-stretching.
pre-blowing and bubble propagation up to 90-95% of the final shape of the container.
final blowing to the residual shape of the bottle.
cooling the stretch blown bottle in the closed mould.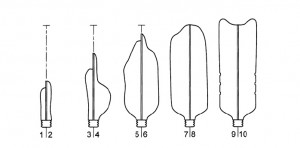 The longerr the pre-stretching, the more material will be transferred to the end of the container. The earlier the pre-blowing begins, the more material will be expanded early enough to be pressed to the chilled walls and keeping it in that section. The high pressure finally blow of up to 40 barg is applied to shape the final contour of the container which is frozen through contact cooling on the wall of the mold. At last the pressure is released form the bottle when the bottle can maintain its shape and dimensions.
Have any questions? Mail to Tina@demark-pet.com, Tina, Demark Machinery, China.
Back to top
Notice: The views expressed are my own and do not necessarily represent the views of DEMARK.
Copyright © 2013 - 2021 www.pet-machinery.com all rights reserved. Designed by Tina | Sitemap